Cracker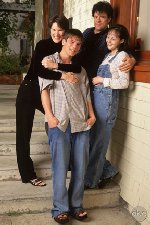 2/24/99 NEWS: A & E apparently has the rights to air the American version of Cracker. Check the A & E website for times & details.
Description: (stolen from here)
ABC drama. [ABC press release information]. Based on the esteemed British series, this drama is about a man who drinks too much, gambles too much, and insults too much. He is too much. Gerry "Fitz" Fitzgerald (Robert Pastorelli of "Murphy Brown") hardly fits the profile of a psychologist, let alone a cop. But as irony would have it, he's a shrink with the L.A. police department. For once in his checkered career, he is making money from knowing everything about the dark side of life. He knows what makes criminals tick; he is their alter ego on the other side of the law. He shares their vices, their weaknesses and their perversities. Ironically, he often understands criminals better than he understands his family -- which may explain why he has more trouble at home than at work. From Kushner-Locke/Granada Entertainment. James Sadwith, Rob Dwek, Gub Neal, Donald Kushner, Peter Locke, Jules Burns and Andrea Wonfor are executive producers. Also starring Mariska Hargitay, Carolyn McCormick, Robert Wisdom, Josh Hartnett and R. Lee Ermey.
Cracked: The Unofficial Cracker Page
A & E's Cracker Page
Episode Guide
"Sons & Lovers" Episode Synopsis
A & E Cracker Discussion Board
Mysteries.Com Cracker Message Board
MysteryNet Cracker Discussion Board
Reviews
Detroit News Review
"Cracker Gambles Against Seinfeld"
NY Post Review
'97 Fall Cracker Preview
Cracker Review
SunNews: Tuned In: Cracker